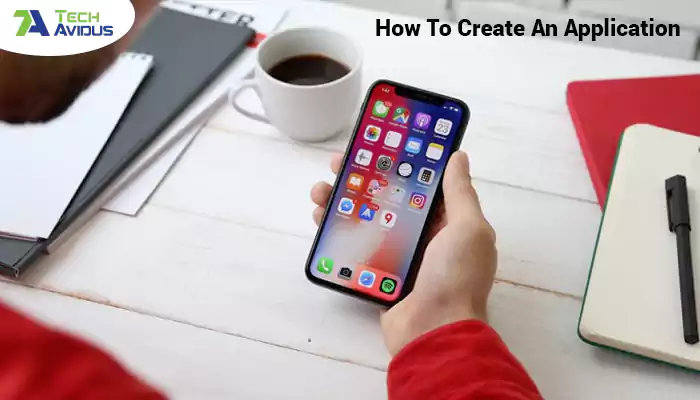 How to Create an Application - Steps To Develop an App Successfully
In this digital era, the individual needs of everyone are influenced by smartphones. With this swift expansion of digital technology and smartphone habits, businesses community should invest in various mobile strategies. Mobile apps are offering ways to businesses to boost sales and increase revenue, increasing the potential to engage with their customers, and increase brand awareness.
Nowadays, to create an application is not a very complicated thing to do anymore. But despite that, making a useful mobile app is a procedure that involves comprehensive pre-planning. To make the process less intimidating, let's get started with steps to how to create an application.
Steps to Create an App Successfully
Define The Goals & Ideas
It's essential to have a clear idea as to why you need to develop the application. If the clarity is missing in the beginning, it will be evident in the result for sure.
It's best if the answers to the following questions are ready before you invest time & money to create an application.
Why will the audience use your app? (Define users' goals)
What business goals are you trying to establish with the app?
What troubled areas of your business do you need to work on?
What issues would your app help to solve?
What do you want to accomplish from your mobile app?
How are you going to monetize it?
Is it an internal app that boosts employees' productivity?
Is it there to deliver the product/service to a new set of the targeted audience
Layout The Flow, Functionality & Features
Validation of your objectives means that you have caught something that people need to utilize. Now is the time to decide the functionality of your app as well as the visualization of features. In short, now is the time to define the scope of your application.
If you have a clear list of required functions and features, it will significantly streamline the project assessment procedure, the selection of technology, and preparation of the workflow.
Competitor Analysis
You have to take a deep dive and study the competitiveness of your mobile app idea. Check out the reviews of your competitors. What are the things people like/dislike about the app? Utilize that data as an advantage. Find out all the difficulties you might face to compete in the marketplace. Are people looking for any new solution? Is there any corner not being satisfied with the available options? Know all the loopholes and customize your app to fulfill them.
If you think your idea is entirely fresh, explore other 'first to market' apps and analyze how they inform customers about their new stuff.
Designing & Testing Of Wireframes
‍Now, it's time to obtain a wireframe for your mobile application. The visual architecture supports identifying what will run on every page and how it all connects. You can test your app's functional capability before going into the designing and development phase. This is an important step to visualize and define the extent of an app and its usefulness. Basically, it's a rough sketch of your idea with dummy writing, which will help your employees to understand how the app will function and appear.
Pick A Development Path
Before beginning with the programming phase, you should think about which operating systems and programming languages you need to use to create an application. There are native language programs available for virtually every OS. On the other hand, there is also an option of cross-platform development, which enables the development of mobile apps for different systems from the same original code. These developments are not native but deliver real outcomes for particular types of apps. You can develop native apps if you have a big budget or do not want to exceed the selected platform. Else, you can use cross-platform technologies to advance the app development and decrease the cost.
App Development Phase
During the phase, the development team will start applying the styles and functionality of the app. It is crucial that your development team thoroughly perceives the objectives of the mobile application as a whole. No one is more involved with that specific feature than the appointed developer. Any developed iterations can boost project costs, so it is significant to stay well aware of any improvement throughout this stage. Another useful way to minimize risk during app development is to make use of an app development platform where apps are developed with predefined components and decrease overall project expenses.
Testing Phase
After the development of the app is complete, it is essential to perform its thorough testing. Ideally, beta testing/user testing is done to check different functionalities. We also need to analyze overall performance as well as optimization. In this phase, you can analyze the app under multiple conditions to ensure it is free from errors, and users are having a friendly experience while interacting with the app. Android beta testing is quite easy as you need to upload the app file onto any of the android devices to test live. On the contrary, iOS favors testing in controlled surroundings.
Launch & Promote
After all the required optimization and improvements are made, the last step is to share your app globally. Sharing your app in the app store needs proper planning and faith. Release your app with the stated instructions of the stores. Verify submission policies to minimize time and effort. After the deployment to respective app stores, promote your app by sending emails to your target audience, market on social media, publish a blog regarding your app, add a banner to your website, and explore further.
Summing Up
I am sure you'll agree with me that the success of the process of how to create an application is a mixture of thoughtful strategy and precise execution. It is not possible to define by any one of the particular components. It requires the right efforts in the early stages, as well as every phase of app development.
If you are thinking of developing your mobile app and want assistance with any of these steps, we welcome app owners at any stage of these processes. Contact us today and enjoy your journey with us.