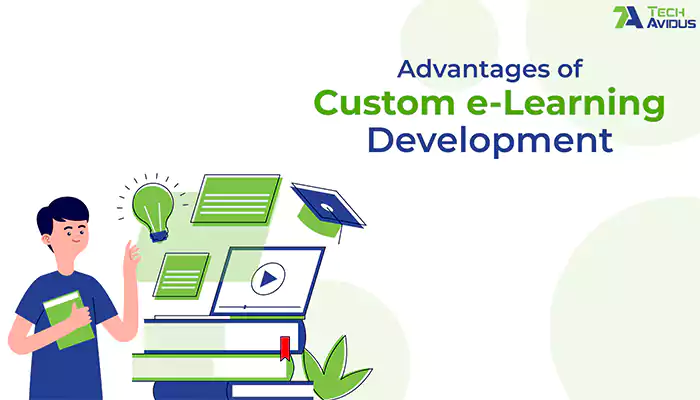 Donna Abernathy said, "Online learning is not the next big thing; it is the now big thing." Affirming the above saying, eLearning has become a fast-growing industry and is becoming a crucial element of education.
With eLearning being such a vital talk of the town, let's understand what it is all about. Let's identify how a custom eLearning solution would be beneficial to your business.
What is eLearning software?
Electronic learning or e-learning conveys learning over digital resources and electronic devices such as smartphones, computers, and tablets. eLearning enables users to learn & teach from any corner of the world, at their comfort, without any target date.
eLearning software is a system hosted on the cloud that aids in managing overall learning activities online. A user of this software can make reports, conduct virtual classes, take a live test, and also has access to multiple user management functionalities. Whether it's admin, tutor, or learner, everyone has their role and usage of the software to make online learning very easy.
How is e-learning influencing the current state of COVID-19?

One of the significant shutdowns through the COVID-19 health crisis is that of school systems and university studies. There are more than 1.38 billion learners affected due to the pandemic.
At this time, online learning is no more a choice; it is a necessity. Technology has been taking a significant lead throughout the pandemic. Custom e-learning development has helped to study in the comfort of your home. Plenty of EDUpreneurs have also embarked into the e-learning industry and made custom eLearning solutions. Here are some mainly checked E-learning keywords during the COVID-19 in the UK 2020.
Custom e-learning development will help leverage multiple instructors' different views and experiences from every corner of the world rather than just local tutors. Learners can choose from a diverse range of courses from any field. One does not need physical attendance to learn & material is available twenty-four-seven, so no fear of missing any crucial lessons. The beginners are exploiting the best of e-learning, and it is supposed to be a more robust and productive approach of the teaching-learning action in days to come.
How is custom eLearning development advantageous to your business?
Absolute authority/Ownership
Custom eLearning development implies that you have all the rights and complete control on customizing your content based on need. You are allowed to update the content as per trending technologies such as gaming, simulations, presentations and multimedia technology, Virtual learning environment (VR), assistive technologies, and whatnot! When it comes to ownership, you might need to pay only once but own it fully without worrying about the number of users and courses running over there.
User-friendly and easy to update
To keep pace with the ever-changing market demands, you might add new services/products to your business. These changes need to reflect in the online system as well. As you have complete ownership of the app, you have access to make any update to your e-learning software and utilize advanced technologies. It will help to fulfill your currently emerging as well as future needs. A highly obedient cloud platform will also boost your business growth.
Help to promote your brand
Personalization of an e-learning system can be possible by applying the branded images of your organization. Highly flexible e-learning software will let you set up a context and background of online courses with the type of work and nature of your organization's multiple activities. Your brand name and logo will also help showcase your company's brand as you chose Custom eLearning development.
Cost-efficient
Elearning excludes the expenses of providing trainers and personal classes on-site. There is also no need to pay for travel expenses for learners and instructors who want to participate in any course. Moreover, all courses have their textbooks available online. Distance learning establishes a viable, concise learning structure needed in this currently ongoing health crisis.

Time saving
eLearning software can save you from performing a lot of repeatable tasks & save your time. You need to enter all the details once, and you are all set. You can also eliminate duplicate data entries that you have to write manually. All your student and staff records, course information, details of suppliers, everything can be kept in one place. So, you always know where to go to collect specific data.
Enhance efficiency and productivity
An eLearning system enables learners to obtain material from any corner of the world, at any time. Employees can take training courses at the time of low-level production rather than going to attend seminars physically. People can leverage the best out of everything they need to boost overall performance from a wide range of resources.
With an eLearning training method, you can ultimately reduce the need for paper-based materials and greatly benefit the environment by saving trees. You can also eliminate the demand for classroom-based training locations and provide education that can be obtainable from anywhere, without harming the environment and mitigating power consumption via remote delivery options.
To Conclude
Predictably, with all these advantages, we can say that online learning is the future wave that will help fulfill organizations' and individuals' development needs. An increasingly large number of learners and companies are opting for online e-learning technology nowadays. They know how online learning is a bigger bang for their buck.