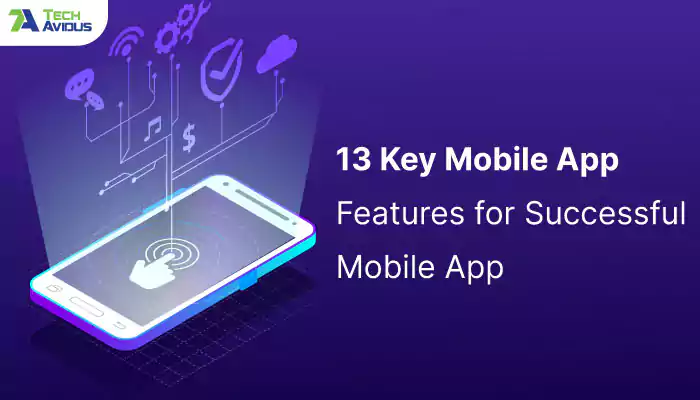 With the remarkable growth of smartphones, tablets, and wearable devices, mobile apps have become essential to facilitate business. Mobile apps must be considered when thinking about marketing for brands.
What should a company or a start-up do to ensure the success of its mobile application? The simple answer is to make the mobile app distinct and eye-catching. Indeed, a mobile application must be attractive enough to make users love it. It is crucial to have mobile app features that will provide the most comforting user experience by providing what they expect from it.
Check below the most important mobile app features that will help your app get to the attention of every single user:
1. User-Centric
What kind of users is likely to be if your app is launched? Consider them and know their characteristics. Focusing on users will aid you in creating a victory base app that will appeal to specific demographics. If your app is user-friendly, you will see more active users, higher engagement, and a wider audience. Feedback from users is an excellent method to obtain details about what your users want.
2. Modern Technology
Apps that use the most modern technologies, such as machine learning, data science, AI, etc., have become popular mobile apps. People want more utility from their mobile apps, which these technology solutions providers. Technology helps ensure the best user experience and helps businesses run their business correctly. Data science technology provides powerful models that can predict demand and sales for businesses.
3. Intuitive UX and UI
Users want mobile apps that have simple yet user-friendly User Interfaces. A simple UI does not control the information users consume within the application. However, a fast user interface provides a positive experience when using the app; remember that a simple UX is important for ease of use.
If you use in-app purchases, make it clear what users get from purchasing practical items, which will boost your conversion rates.
4. Cross-platforms App
Applications that support different platforms are always welcomed. Making apps can be expensive for start-ups, but this is where cross-platform apps are a necessity. Cross-platform saves money and cuts down on time spent on building the same app twice. Frameworks for cross-platform development include a native angular framework, and this framework lets developers create successful apps and give natural experiences while saving costs.
5. Application Security
Everyone knows that the security of an app is essential because secure apps will have loyal users and attract an audience more quickly. Examples of success factors include e-Commerce applications or any other application which requires in-app transactions with a secured payment processor.
6. Offline Functionality
The offline function is popular in the current application development scenario. Many users demand offline mode of apps, but connectivity issues are common. There are aspects of apps that can't function without a network connection, but they can still enable offline functions through background download. There have been complaints about some ecommerce apps showing nothing without a network connection. It could be a source of frustration for users as they should at the very least be able to browse existing pages.
7. Voice Search
The Voice search feature in the mobile app is considered to be the most compelling feature. This is an innovative feature that has changed the user experience. The introduction of voice-based search has transformed the process of searching for information. With it, users can use their voice to command the app to look up new services, products, or other things without typing keywords.
8. Location Tracking
Location tracking is essential for any app to locate users' locations and provide personalized services. The information such as exact location time, location, and time are transmitted in real-time to target the users. This feature helps brands find the most relevant customers with the relevant products and services. The feature also helps users from having to input their location manually to determine if that product or service they're seeking is available in their region or not.
9. Social Integration
People are more passionate about connecting users with social networks. Therefore, sharing on social media platforms is now a primary feature of nearly all mobile apps. By sharing their feedback or purchases through websites or social networks, apps will give users the most personalized experience.
10. Live to Stream
Live streaming is now one of the most important mobile application features. Users have the option to communicate their experiences when using the application. Major industry players are now embracing this option to promote their brand names on a real platform.
11. Easy Payment Gateway
Secure payment gateways guarantee ease of purchase for the customer. This feature lets you pay comfortably, fast, secure, and immediately through the ecommerce application. This feature offers an advantage for app users to pay using their credit or debit cards, net banking, online wallets, and more. This feature helps build trust and build loyalty between brands and customers.
12. App Analytics
Mobile app analytics allows administrators to collect all the necessary details about user behavior. It is essential for mobile apps of any kind. It gives you the chance to monitor your mobile app's performance to improve it in the quickest time.
13. Regular Updates
The best software requires constant improvement and update. It guarantees the long-lasting popularity of mobile applications. Keep your server up-to-date and ensure that your content stays current. Regularly update your app and add new features.
Summary
An excellent app should be user-friendly, simple, innovative, and solve problems. It's about motivating users to use your application.
We can help you get your company to shine in the field you operate in by associating indispensable mobile app features with the mobile application.