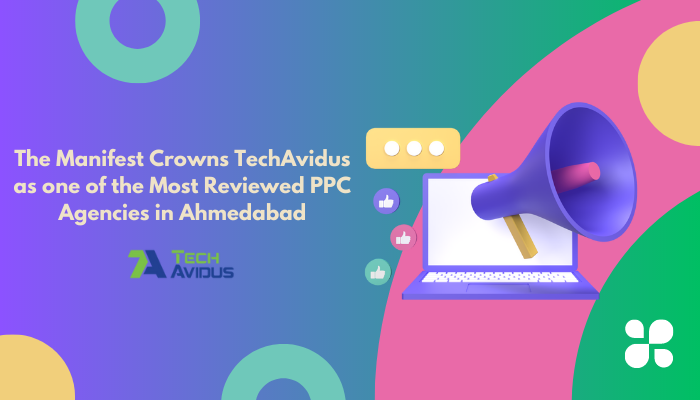 Pay-per-click (PPC) advertising, which delivers targeted and measurable outcomes, has grown in popularity. PPC is valued by businesses because it enables them to target a particular audience based on keywords, demographics, and online platforms, guaranteeing that advertising is displayed to potential customers at the appropriate time and location.
Discover how you can utilize PPC to its fullest potential with the support of our TechAvidus team. We specialize in Web Development, Mobile App Development, Custom Software Development, and Digital Marketing Services (SEO, PPC, and Social Media Marketing). We are a Top-Rated Custom Software Development and digital Marketing Agency.
Our dedication and passion for providing digital services have recently helped us lock in our position on The Manifest's list of the most-reviewed PPC agencies in Ahmedabad. We are beyond honoured to be part of this incredible roster and to be recognized as one of the leaders in the local B2B market.
For those who don't know, The Manifest is a business ranking platform that aims to gather and verify the hard data, expert insights, and actionable advice that you need to build your brand and grow your business – to provide the practical business wisdom that manifests in your success.
Of course, we couldn't forget about amazing clients and partners! Thank you for supporting our business throughout these years. We honestly couldn't have done it without all of you.
Our solutions are tailored to our customer's business environments and existing technical architectures. Drop us a line today and let's talk about how we can help your business.