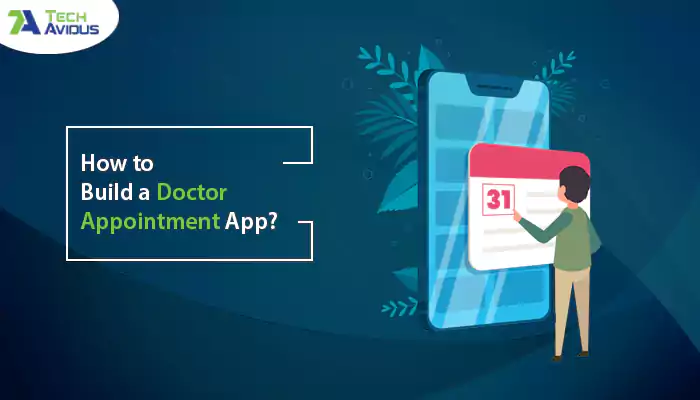 The overwhelming number of responsibilities a doctor has for the patients limits the doctor's ability to spend their time. Patients often become frustrated when doctors cannot manage their time, keep track of their appointments, and schedule them. Building an online appointment booking app is the best way to make it easy to manage.
If you want to develop a doctor appointment app, you're at the right place. We'll discuss the advantages of this app, what features you should include, and some success stories.
Benefits of the Doctor Appointment App
The benefits of doctor booking applications have increased in recent years because they offer convenience and comfort. The doctor booking app will provide the following benefits if you're in medical practice.
24/7 Booking
Online scheduling is possible through the doctor appointment app. It works 24 hours a day. The online scheduling system will benefit healthcare providers because they can easily make other commitments during the daytime. Online scheduling allows healthcare professionals to be more efficient in providing the best possible services to patients.
Monetary Savings
As a result, the facility can save time and translate into monetary savings. A reduction in staff or services can lead to a decrease in expenses. Appointment scheduling can be automated, reducing the need to hire additional staff.
Schedule Reminder
Forgetting upcoming appointments is a significant problem in a telephone-based or manual appointment booking system. Because there are no automatic reminders, patients may forget about their appointment. You can set up a doctor appointment booking system to remind patients & doctors.
Better Customer Satisfaction
Patients can save time and frustration by using the self-service option. They can book appointments from any location. Patients can make appointments quickly and easily and choose the time that suits their needs.
Improves Service Quality
It is easier to manage patients' when you have an appointment app developed by the best company. Customers can chat from their phones and get answers from experts at any time.
What to include in your doctor's appointment app?
If the app has the right features, an appointment scheduling app can only bring back the investment. These must-have features include patient booking, scheduling, reminders, and more.
Real-Time Booking and Scheduling
Patients should be able to book appointments in real time with their doctors by using the scheduling feature. Patients should be able to choose the day and time they prefer within the app.
Doctor Search
Patients can search for healthcare providers by specialty, rating, experience, or geographic location. Share links to other service provider websites that are performing well.
Reminders
Push notifications are a great way to automate regular interactions between patients and doctors. It is possible to notify patients several times so they don't forget about an upcoming appointment. However, be cautious not to do this too often.
Patient Profile
So that doctors are prepared for any situation, patient profiles must include personal information. Scanners and document uploading would be very useful. Doctors need to review patients' data before health checkups.
Doctor Profile
A doctor's profile is a digital representation of the service provider's education, skills, and interests. It can access in a simple, digital format. It is easier to create an app that stores all helpful information in multiple documents on the hospital/clinic site or app.
Live Chat with Support
Patients expect in-app chat. Patients should access doctors via HD video platforms that allow chat access and provide 24/7 support.
Payment Integrations
For a patient to be able to interact with their healthcare provider, they will need several payment options. You should use a credit card, debit card, or e-wallet to manage appointments and make payments automatically.
Online Consultations
For rural patients, telemedicine can incorporate. A doctor appointment app must allow for online consultations via chat or video-calling. It will allow you to reach more patients, even those who cannot visit the clinic. Video conferencing solutions are also possible based on WebRTC or VidRTC technologies.
EHR
EHR systems (Electronic Health Records) are essential to integrate into doctor appointment booking processes. It allows doctors to access patient records online. This feature increases doctor productivity and makes it easier for doctors and clinics to write safer prescriptions.
Online Prescriptions
With this feature, doctors can create virtual prescriptions for their patients and send them to the pharmacy of their choice. The prescriptions are then stored in the patient's account to be refilled.
How much does it cost to create an appointment booking app?
We now have a clear view of the demand for online doctor appointments, the key to its success, and the technologies that will make your app for finding doctors NextGen.
Now is the time to consider how much it costs to develop a doctor appointment app.
Many factors affect the cost of developing an on-demand app for the healthcare industry. It can be tedious to calculate the exact cost without understanding the requirements.
But the main factors that determine the cost are:
Hourly Rates/ Geographical Location: Hourly prices can vary worldwide. Other than that, taxes can also vary between countries.
Dedicated Team: The project's cost is directly proportional to the size of the team.
Skills & Expertise: The team's skills and expertise are essential. With the expertise comes a higher cost.
Features & Customization: The cost of your healthcare solution will depend on the customizations and features you choose.
It is a good idea to hire a skilled developer for your app. They can suggest the best attributes and give a fair quote. An app that is functional and has the right features will be able to tap users and keep them engaged.
It is crucial to make profit-oriented decisions when approaching app development companies.
Reliable app developers can help you with maintenance and support. They will notify you of any updates and provide advanced features to meet the changing needs of your users.
Your company will bring a unique brand value to your app for healthcare and train your staff to use the app to its full potential.
Doctor Appointment Booking Application Development: Step-by-Step Process
There is no magic bullet for designing the doctor's appointment booking app. We recommend that you pay attention below to avoid any difficulties.
Determine What Features Your App Will Offer
Before you look for a company or developer to create your appointment app, you need to determine what features you want. You may want your patients to be able to see a list of doctors, their bios, and contact information.
Integrating with third-party platforms such as online booking sites may be possible so that patients can sign up for reminders by text or email about their appointments. You can list all the things you want the app to do. Don't be afraid of being specific. Developers will appreciate your detailed list.
Ensure Your Doctor Database is Ready
Think about your product before the on-demand doctor appointment app development process is launched. It is crucial to ensure you have the product and a reliable doctor database. This stage is where you decide whether you will be working with particular clinics or how you can access their healthcare API.
Conduct User Research
You will need to gather the essential user data before you can prototype an online doctor appointment app interface. That will allow you to understand the critical characteristics of your target audience. The data will help determine how users will interact with your app.
Create and Test a Prototype
Next, you must create visuals for all screens within your doctor appointment booking app. After your prototype is complete, you can start testing all its features. It will be easier to use the UI / UX design and development of online doctor appointment systems based on feedback from healthcare professionals and potential users.
Plan App Functionality
Make your doctor appointment booking app's interface easy to use and intuitive.
Design Clear Navigation
Straightforward navigation is the most crucial step in any product design. Your app will address life and death issues. It is crucial to provide clinicians and clients with ease and speed of access. All information must be easily and quickly accessible. Navigation is key to a better user experience.
Select Visuals, Colors, and Fonts
The choice of visual elements for your application's interface is another important step. When designing a doctor appointment booking software, you must use a clean layout and a minimalist style. The color palette should be associated with both warmth and calmness. Your designer's team should understand it. Typography should be easy to read and distinguish. Users should be able to quickly find what they are looking for and easily identify it.
Final Thoughts
Suppose you have questions about developing a doctor appointment app after reading this article. In that case, we'll assist you in determining the most appropriate design for your app. With our experience in healthcare applications development of various levels of complexity, We are aware of the principal issues, risks, and goals. We are prepared to share our expertise in technology.