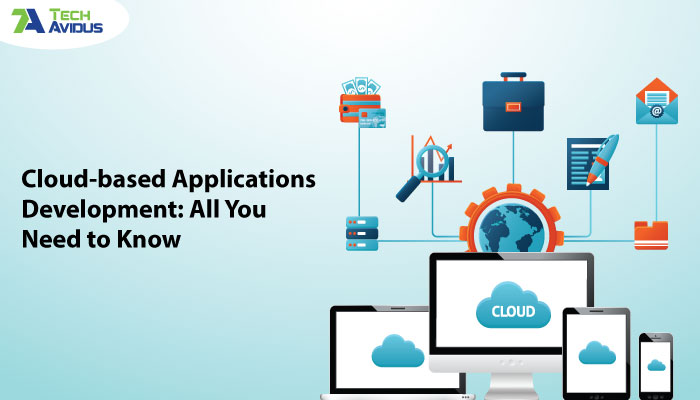 Cloud-based application development solutions help to make data collection more efficient for companies. In addition, security and management are made more accessible to a greater degree. Cloud-based app development allows companies and organizations to develop productivity-based applications that enhance customer experience and generate revenue. In addition, Cloud software development services can also help businesses invest in low-code application design, making it an efficient, time-saving, and cost-effective method.
Cloud-based apps and services are used, directly or indirectly, by nearly every person. Businesses are also increasing their use of Cloud-based software and services even though they only sometimes know. If you're using SaaS tools, you will most likely use Cloud-based applications.
Many people are unaware that Cloud applications are an unanswered question -- one that we'll try to clarify in this post. We are an App development firm. We are aware that any company needs to utilize Cloud services properly. If you want to learn more about the cloud and cloud applications and how your business can profit from them, or if you are looking for examples of Cloud apps, this post is ideal.
Cloud-based applications are increasing in popularity in the workplace, and the anticipated increase of the cloud-based apps marketplace amounts to $133.6 billion by 2020 and $168.6 billion by 2025.
What is a cloud-based application?
Cloud-based apps are online-based applications that include components that can store and transfer data online, with a portion or all operations that run on the cloud. To better understand the concept, consider this method: the user interacts via a mobile or web browser within cloud-based applications. The data processing is done on the remote server and is managed by an API. The user's device serves as an input tool for the cloud application and is not a part of the primary procedure.
Cloud-based applications differ from web-based applications. To fully understand the differences, it is essential to consider some traits that distinguish cloud-based app development.
Benefits of a Cloud Application Development
Cloud-based application development provides a variety of advantages for companies that want to utilize technology to resolve problems. The benefits include:
Enhances application performance: Since the servers of an application process, more computations and users experience an improved speed and reliability of service.
Uptime increased: Thanks to the security of Cloud solutions, your cloud-based application will be up and running faster than your technology infrastructure.
Scalability: Businesses can rent processing power on demand. It is highly convenient in times of high need for computer processing.
Upgrade software quickly: Cloud technologies allow you to update your app quickly and easily with a large deployment. Cloud services can lower the chance of physical IT infrastructure failing.
Types Of Cloud Applications
Infrastructure as a Service (IAAS)
It provides businesses access to advanced web architecture, such as servers, storage, space, and connections, without purchasing and managing the infrastructure independently. IAAS gives businesses that operate online an opportunity to grow and increase demand. IAAS is a policy-based program responsible for housing, operating, and maintaining any equipment it offers for clients.
Platform as a Service (PAAS)
It's an application platform that allows users to build, run, and manage apps without the burden of creating or maintaining an infrastructure usually required to develop and launch apps.
Software as a Service (SAAS)
It's a distribution model where a third-party service hosts the application and makes it available to customers via the Internet. Salesforce and Gmail are a few cloud-based examples of SaaS; however, only some SaaS must be built upon cloud computing.
Function as a Service (FAAS)
FAAS is a part of features that allow the infrastructure supporting it to be turned off without incurring any charges when it's not being used. Cost reduction with the greater capacity achieved.
How to Develop a Cloud Application?
Cloud Based Applications Development is different from creating a web or mobile app. The mobile application developers create cloud-based solutions based on the services you select for the provider. Amazon Web Services (AWS) is the most efficient and secure solution. It has a wide range of tools and features for creating cloud-based applications.
It is helpful to spend time and money-making digital products. Cloud-based solutions aren't any exception. Before you begin developing your app, you must be aware of the issues your app users face and figure out how to fix them with your app.
Proper Market Research
Detailed and accurate market research to know your customers' needs is essential to an assignment. That will allow you to create an effective solution that provides the best value to your customers.
Hire a development team
The next step is to identify an appropriate development team to collaborate with. The initial development phase includes the following elements:
Analytical business.
The process of developing the technical specifications.
Cost estimation for development.
Designing the project.
Before you begin creating your mobile application, You and your team must create an application development workflow, decide on the most important features to be included in your app and then design an idea for the app. Your development team must define milestones for the project and begin developing the MVP.
Decide on Architecture and Features
The architecture and service model are two essential aspects that make your application successful. Please make sure you choose them with care, as these decisions affect your app's performance. We recommend that you speak with experts to get the best results.
Define the Tech Stack
When you talk to the expert for advice on the design, you should also ask about the technology stack to use to develop your cloud-based app. Experts have experience and can provide the best solution after reviewing your needs regarding features and design. Keep the app's capacity in mind since it will help you keep it up-to-date.
Create an MVP
Developing a cloud-based application can be complex and requires much effort. We suggest starting with a minimum viable app (MVP) before evaluating its performance in terms of business and technology. With an MVP method, it will be possible to determine what your users are expressing their opinions about and what they don't like in your application. Then you will be able to analyze their feedback and enhance your app.
Careful Product Testing
Including an initial testing stage within a cloud-based application development process is essential. Make sure that before launching the product, your team of developers tests it to identify and eliminate the impact of any bugs. Make sure that the application functions correctly and gives the correct user experience.
Launch the app and make sure it's up-to-date.
Publishing your app through Google Play or the App Store (iOS) and Google Play (Android) is possible. Google Play uses automated testing to speed up the store application approval process. It may be challenging to determine if Google refuses to accept your application.
The App Store representative's app approval to real-world individuals. If validated users dislike an app, they'll notify you to make specific changes.
Conclusion
Cloud-based application development is a popular topic for 2023. The cloud-based application offers many benefits to companies, including:
Cost reduction for development (no requirement for servers, hardware, or even software)
Greater accessibility for the product
A new stage of standardization
Scaling opportunities
In the same way, cloud-based application development is more complex than desktop or web development applications because it has more elements to manage, including API integrations, data architecture planning, and data decoupling.
Furthermore, you'll only be sure of the cloud service provider you choose (its capability to handle surges in traffic as long as it complies with standard security updates and the bandwidth restrictions it is subject to). That is why we recommend you carefully select your cloud provider and only trust those with a solid standing (AWS, Google Cloud Platform, or Azure span from Microsoft).